My New
Duesenberg USA 59 Series
Guitar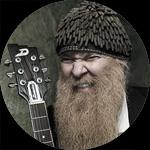 Do you know what's wrong with this guitar? Nothing.
Billy F. Gibbons (ZZ Top) – Duesenberg Owner
This is the model info:
Duesenberg USA 59 Series Tremolo Semi-Hollow Electric Guitar Black
Many years ago my friend Steve told me that I needed to invest in a real guitar and how much happier it would make me. He was right! It's amazing how much different it is to play this gem of a guitar.
I think they're calling this Art Deco style or Retro style. I love all the chrome, especially the bar at the top of the pick guard, reminding me of cars from the 50's. The black is as shiny as you can imagine. The wood on the head stock is beautiful and deeply polished. All the hardware is solid and smooth. The tremolo bar is the perfect size and so smooth to operate.
The neck is perfect and so is the intonation. And OMG the fingering. The only time I hear a little buzz is if I'm really banging on the strings. I no longer strain to make sure all the strings are down on a bar chord. Sliding up and down the neck has never been easier. The licks I've been playing for years sound SO much better now because there's so much less stress on my fingers.
My friend was right, I'm so happy!!
Original pics
on Musician's Friend